NOTE : Doesn't work on Ubuntu 20.10.
Auto Mount NTFS Partitions at startup on Ubuntu Linux.
Lets suppose You have 2 NTFS partition in windows C Drive and D Drive.
If you want Ubuntu to auto mount these drives when you start Ubuntu then do the following.
First create the folders c_drive, d_drive in your root.
sudo mkdir /c_drive
sudo mkdir /d_drive

Open application called Disks (drive partition software).

Select your hard disk.

Select your ntfs partitions (Volumes) and one by one and note down the device name of all. Lets suppose your C Drive partition is 96 GB. Then select the label that is labeled as (File System Partition … 96 GB NTFS). When you click on it, it will display some information related to your partition (volume). Note down the device name in front of label 'Device' (like /dev/sda2). This is path of your C Drive that Ubuntu has specified. Note down the path.

Similarly find the path for the other drive (D Drive).

Create a file /etc/rc.local and make it executable using below commands
sudo touch /etc/rc.local
sudo chmod +x /etc/rc.local


Now open the file /etc/rc.local in a text editor with root permission. My favourite is gedit.
sudo gedit /etc/rc.local

In the file /etc/rc.local paste the following lines before 'exit 0'
sudo mount /dev/sda2 /c_drive
sudo mount /dev/sda3 /d_drive

Basically commands written inside /etc/rc.local file will be executed at startup. We can execute sudo commands from here at startup.
NOTE : /dev/sda2 and /dev/sda3 are the paths of c drive and d drive in my system. You have to put the paths (that you noted / found in previous steps through disks app ) of c drive and d drive of your own system
So our final /etc/rc.local will look something like this
#!/bin/sh -e
#
# rc.local
#
# This script is executed at the end of each multiuser runlevel.
# Make sure that the script will "exit 0" on success or any other
# value on error.
#
# In order to enable or disable this script just change the execution
# bits.
#
# By default this script does nothing.

sudo mount /dev/sda2 /c_drive
sudo mount /dev/sda3 /d_drive

exit 0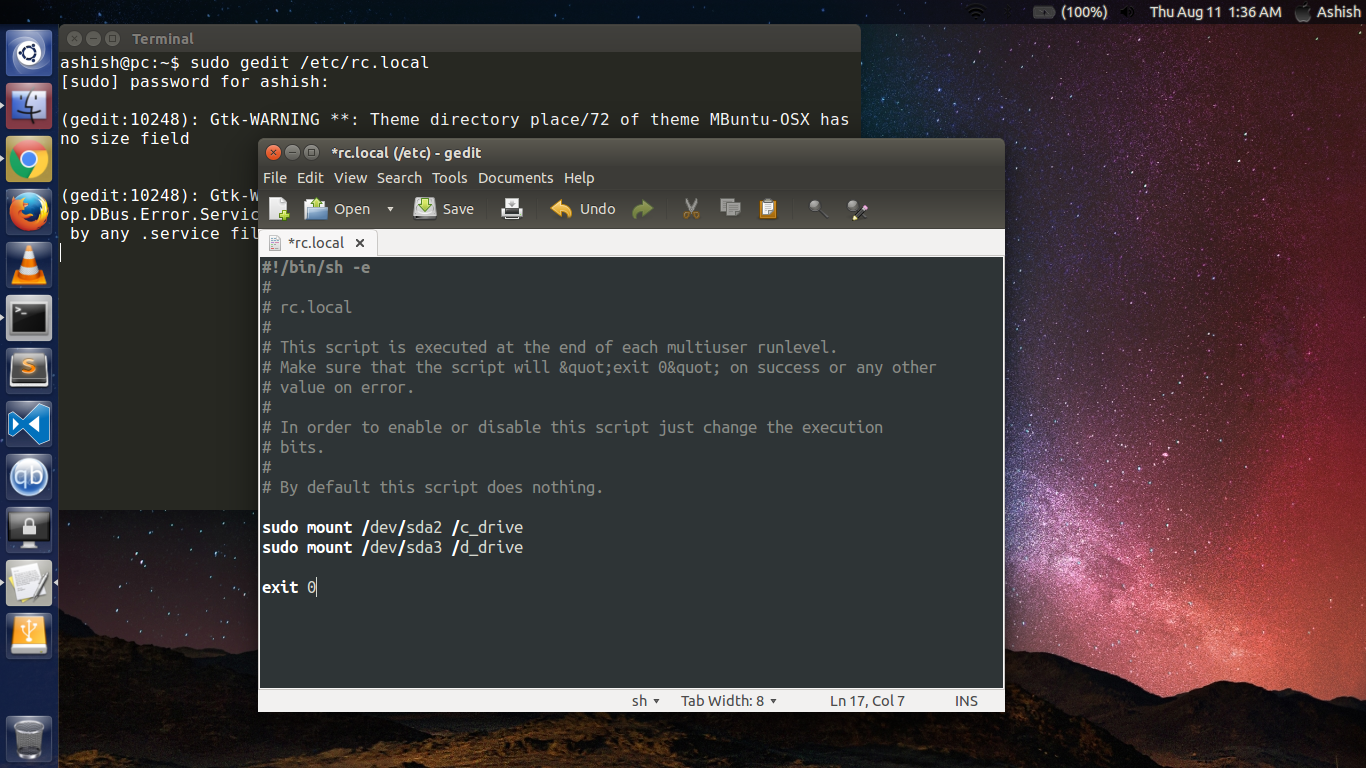 Save and exit and restart that's it.
Now you will find your c drive contents inside /c_drive directory and d drive contents inside /d_drive directory. You can bookmark these locations in your nautilus (ctrl + D) for faster access. Bookmarks are a great way in Nautilus to directly go to any of your favourite location.